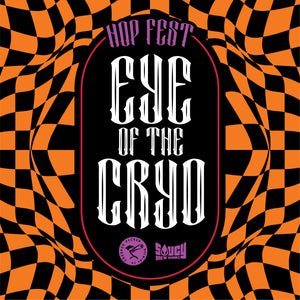 Eye of the Cryo:  8.0% ABV
Made in collaboration with Crooked Pecker. It's a Double Dry Hopped Imperial Hazy IPA jammed with Cryo Comet, Cryo El Dorado and Citra hops to form a haze monster of tropical and citrus hop loveliness.
Available in a 16oz 4-pack
MUST BE 21 OR OLDER TO PURCHASE
Name on order MUST match a Valid ID 

We can only accept payment via credit card/debit card online in advance of shipping and delivery. 
SHIPPING: Available to Ohio + Kentucky. $15 Flat rate, no minimum.